Easter egg treasure hunt.
An Easter treasure hunt is a great activity to make Easter more fun and do something other than the traditional egg hunt. Take your Easter egg hunt to the next level this year with this creative and unique Easter egg hunt. You can organize this game both indoors and outdoors depending on the weather.
Game sheet
number of players: from 1 children
age: from 5 years old
supplies: chocolate eggs
Played indoors or outdoors
How to set up an Easter treasure hunt?
Fill an Easter basket with goodies. Hide the basket somewhere, then fill plastic eggs with clues that will help players locate the treasure. The first to reach the basket wins the treasure!
There are lots of ideas for organizing an Easter treasure hunt.
You can prepare a map of your garden or house. Make a cross in 10 different places on your map that are easily recognizable. One of these crosses represents the location of the treasure. Then hide a piece of paper at these locations with a riddle on it, numbered 1 to 9.
At the beginning, direct the children to the first hidden riddle. They will have to find it and solve it. If it is solved, then they will put a "1" next to the corresponding cross. Solving the puzzle will lead the children to a new hiding place. They will then solve the riddle and that will lead them to the next hiding place and so on. They will always place a number next to the cross for each puzzle they solve. The 9th riddle will give the location of the treasure to the children which represents the 10th cross.
Printable treasure hunt game for Easter
To help you, we have found a turnkey treasure hunt game.
All you have to do is print the game, hide the riddles… The children will have to solve the riddles as they find them. The children will progress step by step and will have to solve all the tests in order to find the final treasure that you will have prepared and hidden…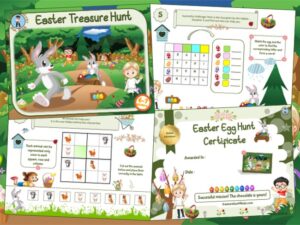 The children will then go in search of Easter eggs but living a great adventure of treasure hunting. It's a great way to make the egg hunt longer and make Easter more fun!
Children will be surprised by this game and this party will remain in their memory forever.
The educational advantages of the game
learning the rules
play in a community
practise social skills and team work
gross motor skills development
Make your Easter party even more fun with our printable games: treasure hunts, detective mysteries & escape room kits.