Easter Toss Game.
This Easter Toss Game is great fun for an Easter or birthday party activity. All these Easter games for kids will delight them all day long after the Easter egg hunt is over! We explain how to play the game but also you can offer different ways of adding challenge to the activity to develop the children's throwing skills further. You can organize this game both indoors and outdoors depending on the weather. Keep kids entertained with our Easter game ideas.
Game sheet
number of players: from 2 children
age: from 5 years old
supplies: chocolate eggs or candies
Played indoors or outdoors
How to play Easter Toss Game?
Simply take a piece of paper and draw 3 overlapping circles of the same or different sizes. You can refer to the templates below.
The size of the circles will depend on the age of the children. Use a different color for each circle and write different point values for each circle and circle intersection. Place the sheet on the ground and mark a launch line plus or minus two meters (depending on the age of the children). The children will take turns throwing 5 candies or chocolate eggs into the circles. Award prizes according to the number of points. You can also leave the dots out of the circles and have each circle correspond to a specific prize (candy, chocolate bunny…). If a child manages to place an egg on the intersection of the three circles in the middle, then he/she will get a really special prize!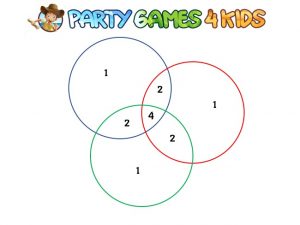 The educational advantages of the game
learning the rules
play in a community
develop throwing skills
Make your Easter party even more fun with our printable games: treasure hunts, detective mysteries & escape room kits.