Christmas scavenger hunt.
Littles will love searching the house for clues with this printable Christmas scavenger hunt. This could be a fun game to use at home to keep children occupied during the Christmas holidays. You could use this as a fun Christmas activity during the festive season. Then, discover all our ideas of games to set up to celebrate Christmas.
Game sheet
number of players: from 2 children
age: from 5 years old
supplies: printable scavenger hunt + pencils
Played indoors
How to set up a Christmas scavenger hunt?
Organizing a scavenger hunt is a great way to encourage children to search for Christmas-themed hidden objects.
Simply print out a sheet with the different items to be found.
We have created a scavenger hunt with different items to find around the house. When the child finds the object in question, he or she checks the corresponding box. The first child to have checked all the boxes and therefore found all the items requested has won.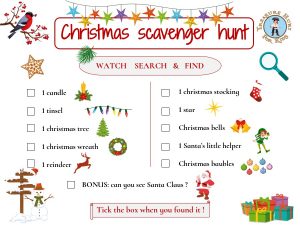 You can of course create your own scavenger hunt with your own objects.
Provide a prize for the fastest team or child and consolation prizes for the other children.
It is an ideal game for the sad winter days, in cold and wet weather. It is a fun activity that allows your children to move and think while having fun. Children love to look for little treasures hidden in the house. This game will allow them to have fun, explore and is an excellent language support to discover Christmas words and discuss around this theme while discovering traditions.
The educational advantages of the game
learning the rules
play in a community
practise social skills and team work
gross motor skills development
Discover all our games to easily throw the best party ever for your kids with our printable game kits!